Following years of disrepair, the Grand Opera House was slated for demolition in 1965. In April 1967, the Macon Arts Council was formed to raise money to restore and operate the Grand. Sheridan Construction was selected to renovate the building in 1968 and has since completed seven major renovations and several smaller projects to the building.
The most recent renovations to the Grand Opera House were completed in three phases: Phase One involved renovating the stage and auditorium with new seating on the main level and second-floor balcony, new carpet and floor finishes, and new exit lighting. Phase Two included relocating the main floor administrative offices to the newly renovated basement.
The final phase was completed in October 2018 and involved major renovations to the Grand's main lobby. Patrons now enter through newly installed dark bronze storefront doors into a greatly expanded lobby featuring the Grand's original arched plaster ceilings trimmed in gold paint to match the existing theater chamber. The lobby is lit by three turn-of-the-century chandeliers that reflect off the original 100-year-old polished marble floor. Flanking the lobby are identical spacious reception rooms featuring custom oak wood paneling, trayed ceilings, turn-of-the-century chandeliers and open front walls with dark bronze storefront windows in their original openings.
Patrons also now enjoy upgraded, modernized restroom facilities that are double in size from the originals. The newly renovated restrooms feature stainless steel bath stalls and sinks, floor-to-ceiling tile, and large vanity mirrors. Both facilities can be accessed from the reception rooms, as well as the main vestibule.
This project was the most significant renovation to The Grand in more than 50 years. [Sheridan Construction] was presented with an incredibly challenging task of renovating an historic theatre within an ambitious project timetable. They not only completed the project on time and within budget, but most importantly, returned this more than 100-year-old venue to its rightful place as one of the Southeast's great historic theatres.
Larry D. Brumley, Senior Vice President for Marketing Communicatiosn & Chief of Staff, Mercer University
The Lobby Renovation project earned a First Place Build Georgia Award from the Associated General Contractors of Georgia.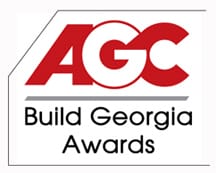 The entire renovation project earned an Excellence in Preservation Award from The Georgia Trust for Historic Preservation.